Boutique Cobblestone Fleur De Lis Finial for Counter Merchandise Hooks
SKU: 60514
---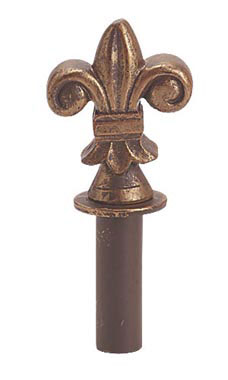 $0.87
Features:
<b>Features</b> <ul> <li>Fleur De Lis design</li> <li>Hand-brushed copper finish</li> <li>Easily interchangeable</li> <li>Countertop merchandiser finial</li> </ul>
In Stock and Ready to Ship
Customize the theme of your floor space with these interchangeable finials that attach and detach to the top of each countertop merchandiser effortlessly. The fleur de lis mold of this finial will give your showroom floor a taste of designer exclusivity!  Our cobblestone collection features a hand-brushed copper of cinnamon color that will warm any atmosphere.  This finial works only on countertop merchandiser hook stands.
FEATURES
<b>Features</b> <ul> <li>Fleur De Lis design</li> <li>Hand-brushed copper finish</li> <li>Easily interchangeable</li> <li>Countertop merchandiser finial</li> </ul>