Tips for Merchandising on Round Tables
The fall holiday retail season is well underway and this is the opportunity to set your business apart from the rest. Invest your time and creativity in a merchandise display that will turn heads and capture holiday sales. Shoppers spend billions of dollars each year on holiday merchandise. With more choices than ever before and a more price conscience shopper looking to get the most out of their shopping budget, it is more crucial than ever to stand out from the rest and put all your creativity on display. There are lots of ways that you can merchandise product and we want to give you some visual inspiration for your holiday displays.
Our 36" diameter round display table is a great example of an inexpensive starting point to what will become your holiday show piece. This table is a great choice because it weighs less than 20 pounds and is ready for set up right out of the box. The legs fold into each other for easy storage. These tables require standard 88″ tablecloth that you can purchase at any discount or department store. You could simply cover it with some fabric that you may already have. We recommend that whatever type of table covering you choose, you pick one that covers the table to the floor allowing ample space underneath to store extra product for easy restocking.
In our photo examples we have created two similar table displays. We want offer a few tips that are simple to implement. We want to show you that with proper layering and placement, you can display quite a bit of product and inspire your customers.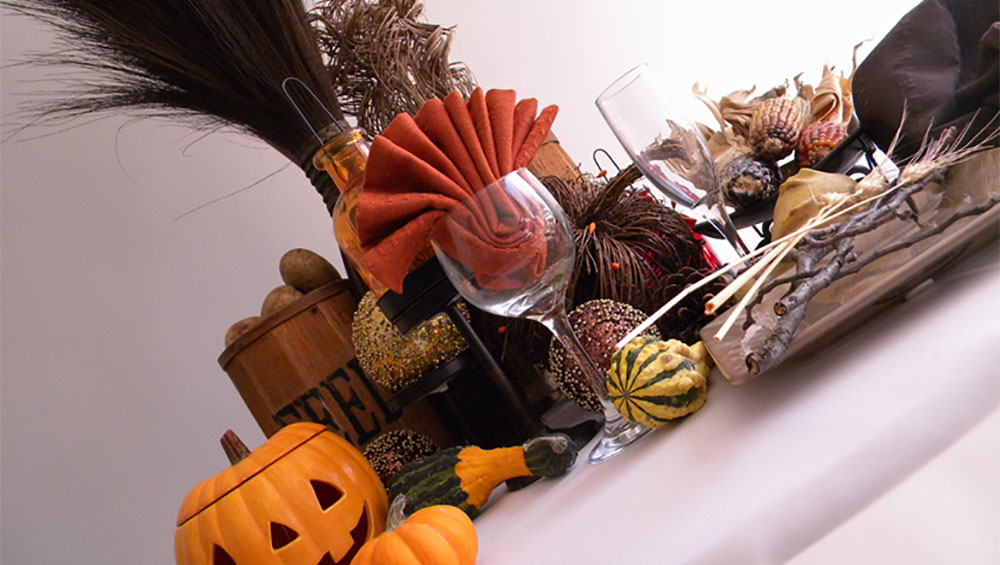 Tip 1: We suggest that you assemble all merchandise with color tones that are complementary.
Tip 2: A lighter tablecloth will give the merchandise a more contemporary feeling and using a darker color will evoke a warm and traditional feeling to the display.
Tip 3: Start at the rear of the display tabletop choosing the tallest merchandise first. Work your way forward using shorter heights until you reach the front of the display. This is where you can display plates or other merchandise that seat lowest on the tabletop.
Tip 4: Ark around the display table to maximize space and allow for visual interest.
Tip 5: Display in odd numbers. Keeping the item count in odd numbers adds proper visual weight and interest to the display.
Tip 6: Add natural elements to your display whenever possible. Natural elements create the feeling of warmth which is always an appealing element for any table scape.
Interested in other fall décor ideas? Click here!
Share This Article