Boutique Pipe Half Round Clothing Rack
SKU: 60708
---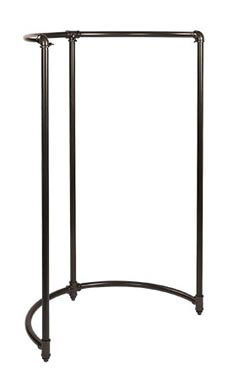 $84.25
Features:
Dimensions: 35"W x 35"D x 54"H
Color: Dark Grey
1½" Diameter Hangrail
51½" Usable Hanging Space
In Stock and Ready to Ship
Our Half Round Clothing Rack - Pipeline Collection is sure to add a touch of style to your showroom floor. Our Pipeline Collection features an ash grey finish with industrial pipe accents. The Pipeline Collection is a merchandising system of racks based on the traditional industrial grade clothing racks which are popular in New York's garment district. Our version of pipeline incorporates interconnecting pipes and connectors. This rack has 51½" of hanging space. Optional casters are sold separately.
FEATURES
Dimensions: 35"W x 35"D x 54"H
Color: Dark Grey
1½" Diameter Hangrail
51½" Usable Hanging Space