17 inch Contoured Black Plastic Coat Hangers
SKU: 25116
---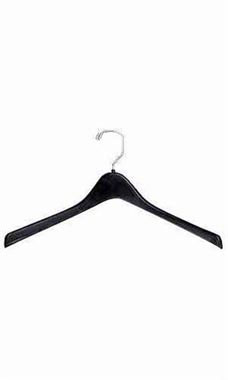 $45.50
Features:
Black Molded Plastic
17" Adult Outerwear Hanger
Sold In Cases of 100
Great for Use with Fabric Coats, Leathers and Light Jackets
Supports 1-2 lbs. Average
Silver Metal Finish Swivel Hook
In Stock and Ready to Ship
The Black 17" Contoured Outerwear Hangers are a great choice to showcase your men and women's fashions. The hangers work great with fabric coats, leathers and light jackets. Our hangers are made of injection molded black plastic, each internally ribbed to provide extra strength and durability. The swivel hooks are silver metal finish which provides extra strength and durability.
FEATURES
Black Molded Plastic
17" Adult Outerwear Hanger
Sold In Cases of 100
Great for Use with Fabric Coats, Leathers and Light Jackets
Supports 1-2 lbs. Average
Silver Metal Finish Swivel Hook