Large Acrylic Sign Holder
SKU: 20138
---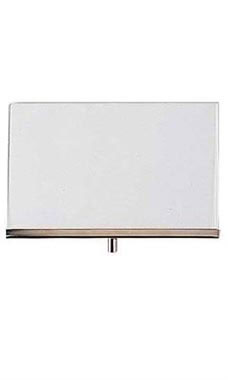 $5.45
Features:
Acrylic Finish
Sold Individually
Overall Dimension: 7"H x 11"W
Double Sided
Use With 3/8" Threaded Stem and Base Systems
Metal bottom and Threaded Receiver
In Stock and Ready to Ship
The 7"H x 11"W Clear Acrylic 3/8" Threaded Stem-Mount Signholder offers a sleek space saving way to show your signage throughout your store. The side loading sign holders can display messages on both sides of the holder. Place signholders on any 3/8" threaded stem and base for use with sales racks or hangrail. Display multiple signs for maximum visual impact. Learn more about Signage and Table Display Ideas in the Customer Connection section of our website!
FEATURES
Acrylic Finish
Sold Individually
Overall Dimension: 7"H x 11"W
Double Sided
Use With 3/8" Threaded Stem and Base Systems
Metal bottom and Threaded Receiver